D.A. Kreilein
The Culverton Kids Mystery Stories
By an award-winning writer who loves a good mystery! She is the author of the Culverton Kids Mystery Stories series, which features the endearing characters of Jeffer, Snoops, and Dinkus. Buy on Amazon
Three Mysteries to Choose From!
The Tombstone Treasure Mystery
Jeffer Elliott, his younger sister Snoops, and their pal Dinkus Malone, have stumbled onto a long-forgotten clue on an old tombstone. Does it lead to hidden treasure? Will the mysterious stranger beat them to it? Through it all, they depend on the Lord for wisdom and courage. But will their longing for earthly treasure land them in more trouble than they bargained for? Join the three members of Sneakers Detective Agency as they crack codes, follow suspects, and narrowly escape danger in their very first adventure.
Mystery At Wolf Rocks
What are these three kids doing on a back road in the woods? Well, the Sneakers Detective Agency is back at it in the second Culverton Kids Mystery, solving some sneaky swiping that's been going on in the town of Culverton. Who could be stealing all the dogs in the neighborhood? The young sleuths get involved to help a friend, but before they can figure anything out, their dogs get stolen, too! Will Snoops, Jeffer, and Dinkus ever see their furry friends again? Join the Sneakers Detective Agency as they discover some unlikely suspects and learn once again that God is always taking care of them — and their precious pooches, too!
The Secret of Copperhead Creek
After solving The Tombstone Treasure Mystery and the Mystery at Wolf Rocks, the Sneakers Detective Agency is off on another hair-raising, heart-pounding adventure! Jeffer Elliott, his younger sister Snoops, and their pal Dinkus Malone are determined to uncover the source of some mysterious goings-on along the banks of Copperhead Creek. Who left the suspicious footprints at Doogan's Mill? Are these the same suspects burglarizing homes in Culverton? Will the young sleuths be able to crack the case before the crooks strike again? When their investigation leads them to unexpected places, the children must depend upon the Lord for courage and, in the end, learn a priceless truth about the human heart.
MEET THE CHARACTERS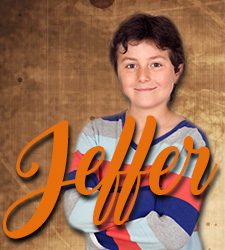 Jeffrey Ethan Elliott (aka Jeffer) is 11 years and 3 months old.  Jeffer is Snoops' big brother, and is always looking for an adventure.  Although a little bossy at times, Jeffer is usually the one to think up some crazy scheme which frequently  lands the members of the Sneakers Detective Agency in more trouble than they bargained for!  In every adventure he relies on God for courage and wisdom.
"Here's a great verse I learned in Sunday School just last week. 'Have I not commanded you? Be strong and courageous! Do not tremble or be dismayed, for the Lord your God is with you wherever you go.'"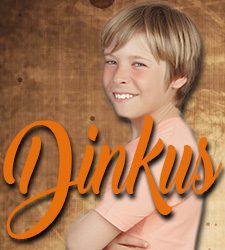 William Malone (aka Dinkus) is 11 years and 1 month old and always hungry. He is Snoops' and Jeffer's best friend and neighbor.  As a member of the Sneakers Detective Agency, he usually carries a small notebook and ballpoint pen with him.   He tends to be a packrat, storing all kinds of junk in his pockets.  Although more of a follower, he occasionally has a good idea. He thinks everything is an adventure, though he tends to become impatient when excited.
"I'm so hungry I could eat a moose... no, make that a whole herd of mooses!  Or is it meese?"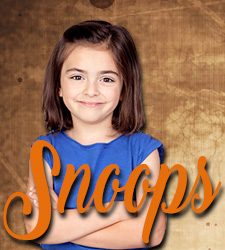 Rebecca Erin Elliott (aka Snoops) is 8 years old and is Jeffer's sister.  Snoops is a tomboy through and through and desperately wants to keep up with the boys of the Sneakers Detective Agency.  She is smart for her age and is sometimes smarter than Jeffer, which leads Jeffer to respond, "Don't be such a smart-aleck." She has a way of blowing things out of proportion and struggles with fear.
"Sometimes I get more scared than excited, and Jeffer has to remind me that Jesus is with me... and you guys, too... and then I'm OK."
Book Reviews
The Tombstone Treasure Mystery
"Reading through the first few pages, I found myself asking questions that needed to be answered. I couldn't put the book down and finished it in one sitting. This is a great book for the young reader and will keep them spellbound to the end. Great moral themes and funny and interesting characters. I highly recommend this book and I understand the next book in the series is in the works!"
Msytery At Wolf Rocks
"Wow! D.A. Kreilein has done it again! The Queen of the Cliffhangers has held us in suspense throughout this entire delightful book! Even though we are older than the target audience, we were held captive to the engaging writing style of our favorite author. In addition to Snoops, Jeffer, and Dinkus, the main characters, Ms. Kreilein displays the depth of her creativity by providing a fully developed complement of protagonists and antagonists with distinctiveness and clarity all their own. We heartily recommend Mystery At Wolf Rocks for all of the young and young at heart!"
The Secret of Copperhead Creek
"This is D.A. Kreilein's 3rd book and I have to say that it is absolutely the best yet. Snoops, Dinkus and Jeffer just jump off the pages! They are truly living characters – full of humor, curiosity and sincerity! I would love to hang out with these three kids as they solve new mysteries. As an adult, I breezed through the 139 pages in no time because I simply couldn't put it down. I caught myself on numerous occasions actually laughing out loud! Any child will love this book as it invokes the reader's imagination to actually see and experience the adventures of this threesome! HIGHLY recommended!"